Purchasing a Log Cabin in and near the Great Smoky Mountains
A log cabin investment in the Great Smoky Mountains area is an opportunity you might consider exploring. The current economic climate of the region is constantly providing reasonable prices for vacation and second home cabin properties. Cabins found in Sevier County, Tennessee, near Gatlinburg, Pigeon Forge, Wears Valley, and Sevierville are providing excellent rental income, almost all of them with positive cash flow. As you will see on this website, log cabins are being listed regularly. CENTURY 21 MVP is the number one real estate company for listing and selling cabin properties.We are very acquainted with the housing and vacation cabin market in Tennessee, especially in the Great Smoky Mountains. Therefore,we are a good source of information and expertise. Get more facts on owning a home or cabin and available property in and near the Great Smoky Mountains by getting in touch with us.
Beautiful Mountain Modern with Killer View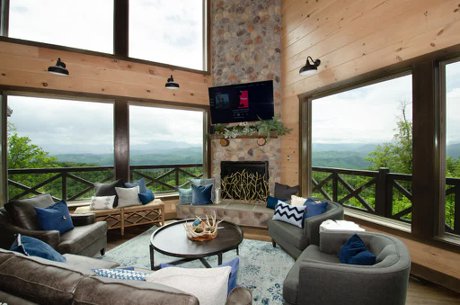 Exceptional Setting of Smoky Mountain Log Cabins
Millions of people come on a yearly basis to the vacation attractions of Sevier County, Tennessee, plus they continue steadily to come. They started a long time ago, and the establishment of the Great Smoky Mountains National Park accelerated the development of venues for vacationers and permanent resident. There was a down period in World War II, but the area has development into a top attraction. Log cabins are a part of the important accommodations that make a vacation or residence in the Smokies so attractive.
The Great Smoky Mountains National Park is the most visited national park in the nation. Cabin properties are next to, or are very near, the park or in the bucolic foothills. Dollywood, the exceptional theme park, is located in Pigeon Forge. Sevier County abounds with restaurants, entertainment locations, and shopping opportunities for just about everything, and has all you want in terms of mountains, lakes, golf courses, and parks to allow visitors to get outdoors and enjoy hiking, rafting, boating, fishing, or picnicking. So, any log cabin investment you make is going to be protected substantially by the wonderful gift of nature that exists and the outstanding investments people have made in the area.
The Great Smoky Mountains region is a place of magnificent beauty, gracious friends and neighbors, low cost of living and reasonable government. It is the perfect location to work, raise a family, retire, and just simply enjoy life. This place is a little slower, a whole lot friendlier, not as restrictive, and way lower when it comes to taxes. If you enjoy mountains and lakes, along with first class attractions, you should enjoy coming to the Great Smokies for your holidays. If you like it enough, it may make sense to own a cabin and, in reality, "Own your own Vacation". You can purchase your log cabin, put it on a rental program, and allow it help pay for itself. Eventually, you may well move in permanently, or just for a season, while you try the place on for size, or look for your final residence in the mountains.
Security of Log Cabin Investment in the Great Smoky Mountains
The real estate market continues to provide an atmosphere for reasonable costs for vacation and second home log cabin properties in the Great Smoky Mountain region. Cabins located in Sevier County near Gatlinburg, Pigeon Forge, and Sevierville are providing in this market excellent rental revenues. The log cabins are located in an area that is one of the most visited vacation hotspots in the country. In today's real estate market, log cabins may be among the best investments that are available in real estate. When all of these factors are combined with the fact that the local economy has held up well during the period of recovery from the great recession. With the record of the local economy, log cabin investment for private vacation or for rental property may well be one of the more desirable investment options.
Managing a Great Smoky Mountains Log Cabin Investment
Buying a Cabin
Buying a log cabin is actually similar to purchasing a home, either primary or second – you have the cabin inspected, obtain a loan or pay with cash, and the cabin is yours! You will have normal utilities just like any other house. You will have to perform some standard upkeep and maintenance. You can place your log cabin in a rental program if it not situated in a resort with a Home Owners Association that takes care of maintenance. There is always obtainable a management organization to take care of cabin maintenance, either the rental company, the homeowner's association, or a maintenance business.
Marketing and Renting your Cabin
Now, what about renting your log cabin if you purchase one? Nearly all owners select a cabin rental company to perform this for them. The rental company typically equips the cabin with sheets, towels and consumables such as soap and paper towels and napkins. The rental company also advertises your cabin, books reservations, performs all the billing, check-in and check-out, cleans the property, and gets it prepared for the next tenant.
What about Wear and Tear?
What about wear and tear on the rental cabin? Many new owners will be anxious about harsh treatment of their log cabin by renters; but, in actuality, there are few problems with damage. Most tenants that come to visit here have paid good funds to do so – they look forward to enjoying "their" log cabin, and they like being in it and everything about it. Therefore, they generally take decent care of your log cabin while they are here. Also, log cabins age gracefully – the timber logs and interior decoration of the cabins wear well.
Other Information about Cabins
Be sure to check out other information about cabins on other pages on this website. Click the links below.
Also- Check out Deborah's blog, which contains a large number of posts about cabins, how to manage them, how to choose them- lots of important information to get you up-to-speed on cabins in the Great Smoky Mountains. Click this link: Cabins on Deborah Korlin's Blog- CENTURY 21 MVP
Don't see what you're looking for? Give us a call and we can help you find it!